The Sausalito Woman's Club Scholarship recognition Fund (SWCSRF) is a non-profit organization dedicated to providing financial support, encouragement, and acknowledgement to deserving local scholars seeking higher education.
Established in 1956 as a charitable arm of the Sausalito Woman's Club (SWC), Scholarship has played an important role in the local community by helping more than a thousand residents pursue higher education and by awarding over one million dollars in our first sixty years.
Scholarship applicants must be permanent residents of the Sausalito Marin City School District, and must be current or returning scholars planning on attending an accredited college, graduate school, vocational, technical, or art school.
The SWC Scholarship Recognition Fund is a 501(c)(3) non-profit organization operating in conjunction with the Sausalito Woman's Club and relying on the generosity of both SWC members and community supporters who believe in our mission of doing what we can to help local scholars achieve their higher education goals!
Click on the image above to find out more about SWCSRF and how our scholarships help deserving students achieve their higher education dreams.
SWC Scholarship Recognition Fund News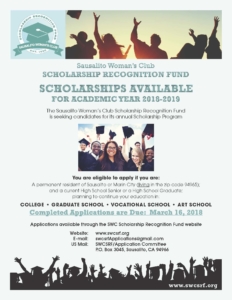 Click on the image for information on how to apply for a 2018/2019 SWCSRF Scholarship.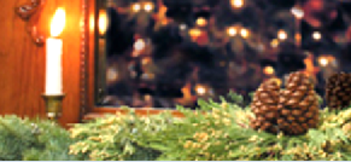 Click on the image to find out about local events that will help you check off items on your holiday to-do list and benefit Scholarship at the same time!